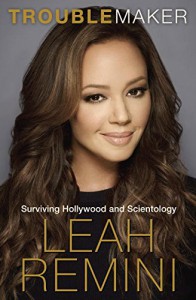 After two romance anthologies that left me feeling pretty cold, I decided to tackle a non-fiction title from my library stack. I meant to just start this book this morning, but couldn't put it down until I finished it. Content wise, it was heartfelt, gossipy, and authentic. Writing quality could have used some polish, which is not surprising considering Remini dropped out of formal education at the eighth grade.
Remini had my interest from the first page, but it was her descriptions of growing up in an Italian-Jewish family in Brooklyn circa mid-1970s and early 1980s that made me smile. Italian-American families are so alike, I thought she could have been a cousin of mine. I still remember her from her guest spots on Who's the Boss? and Saved by the Bell! Her rise in Hollywood was painful but much more realistic than child stars or models turned actors. She was very real about her wanting to be an actress for the money, but stayed and dealt with the hardships inherent with the acting world because she loved the work. She doesn't hold back about the crap that Scientology is known for, and she names people and their rank/role within the organization.
4/5 stars for content, 3.5 for writing. If Remini ever writes another book, I will read it.
P.S. I never liked Tom Cruise or his movies, but damn he is quite the douche-bag.