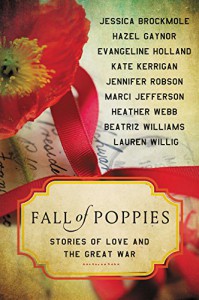 I won this anthology at the Smart Bitches Recommendation Party at RT con earlier this year and have been waiting patiently for November to come so I could read this.
1. Daughter of Belguim by Marci Jefferson - 3.5 stars
Content warning: the beginning of the story deals with the rape of a teen girl and there is a brief description of what happened later in the story. This story had a lot of suspense and drama, including double agents and resistance fighters. As the story opens up prior to Armistice Day, the violence and war machine plays heavily into the themes.
2. The Record Set Right by Lauren Wilig - 3.5 stars
I liked the heroine (Camilla) right from the get go and enjoyed her both in her past (as a young adult) and in her present day elderly self (loosely, as the story takes place alternately in 1918 and 1980). Camilla was smart and knew the game; when other players made their choice, she made hers with much more forethought. I didn't think Edward or Nicholas deserved her then or now, but I did like reading how Camilla and Edward reconciled after so much time.
3. All for the Love of You by Jennifer Robson - 4 stars
I really liked the research that went into this story about face masks designed and produced by artists (with funding by the American Red Cross) for wounded soldiers. The romance was very well written and believable despite the timeframe the romance developed in.
4. After You've Gone by Evangeline Holland - 4 stars
A different take on the war romance, this story features black characters (American and British) in France just after the Armistice started. The plot line centers more on the emerging jazz age in Europe via black Americans who fought in the war and decided to stay in Europe rather than return to Jim Crow-era US. I really enjoyed reading from the heroine's (Morven) POV and she had an interesting back story and strong character development.
5. Something Worth Landing For by Jessica Brockmole - 2 stars
A marriage of convenience that never really got off the ground. It had the beginnings of a romance story but failed to tell the whole story through the brief meeting of the couple and her letters to him.
6. Hour of the Bells by Heather Webb - 3.5 stars
Strictly a work of historical women's fiction, it is a great story of a war widow's grief and anger at the possibility of losing her son to the war as well as her husband. Her grief and anger leads her to action.
7. An American Airman in Paris by Beatriz Williams - 1 star
Boring, depressing, with an unresolved ending. Waste of time reading this.
8. The Photograph by Kate Kerrigan - 3.5 stars
I had a hard time getting into this story, partly because of the last story's lingering bitter taste. This story grew into something really good and takes on a wholly different event that happened during the war - the Irish uprising in 1916 (starting with, but not limited to, the Easter Rebellion). I really like how the present characters' situation ties in with the past.
9. Hush by Hazel Gaynor - 3.5 stars
A really great way to end the book, especially with the mentions of poppies. This was a story about an English village affected by the war rather than individuals. The countdown to 11:00 on November 11th 1918 added tension to the story.
Out of the nine stories, only two were less than good, so I am going to recommend this book to historical fiction readers. Now I have a bunch of authors I want to read more from (luckily I have some more Robson and Kerrigan works on my NOOK).