Review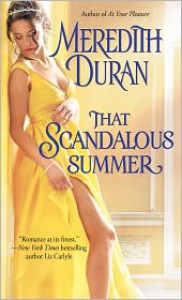 This is my first Duran book. I picked it up from the NOOK store as a freebie....and now I know why. I wanted so much to like it, which is probably why I feel such a disappointment after finishing this book. I should have DNF it at the mid-way point, but I had a bad case of insomnia last night, so I read.
FYI: on GR, this book is often referred to as a Regency set romance (both in the book description and in some reviews). Uh, big old no there - the book takes place in the late 1880s, so that is definitely Victorian Age.
This book has more plot lines than it should. Plot line A is all about the Michael (the hero) hiding out in Cornwall, pretending to be a middle class country doctor when he is brother of the Duke and a well-known doctor to the poor and working class of London. Plot line B is that the heroine (Elizabeth) needs money to maintain her lifestyle and tenants/village, so she devises a scheme to host a house party with eligible bachelors for her to snare. Plot line C is a blackmail plan of Elizabeth's former lover to get money and rank from the Duke.
Any of these plot lines would work for the book, but the mash up of all three left this book in need of a purpose and direction. Combined with less than awesome characters and repetitive writing, and it was a never-ending drag to get through. I liked Michael. He had his reasons for hiding out in Cornwall and using medicine to help people. He was the only character I liked in this book. Elizabeth was a basic Samantha from Sex + the City with money problems and a BIG drinking problem that is never addressed in the book. The house party guests were horrible human beings, but considering their hostess was Elizabeth, I am not surprised. The writing was okay, with dialogue at times being actually witty and at other times just bitter sarcasm. Bottom line: I didn't believe in the romance or HEA.
1 star for the hero. COYER Challenge book 2. Summer Bingo square "book that has been on shelf for more than a year".