Review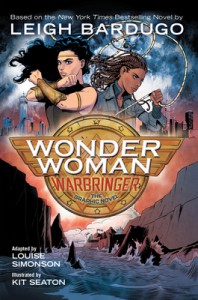 Title: Wonder Woman: Warbringer the Graphic Novel
Series: DC Icons #1
Authors: Leigh Bardugo, Louise Simonson, Kit Seaton
Published Date: January 7, 2020
Publisher: DC Comics
Format: Paperback
Page Count: 208 pages
Source: Library
Date Read: June 26, 2020
Review
I was gifted the audiobook (CDs) a few years ago, but wasn't interested in listening to this version. I picked up the ebook when it was on sale a while ago, and never felt in the mood to start it. So when I saw this version in my library I decided to go for it and have it fill a prompt on the SRP. I'm so glad I did - it was a great story but also streamlined for my attention span.
The story opens with Diana preparing for an important race to help her improve her standing with some of her Amazon sisters, especially her mother's right hand woman/#1 general who has an unfounded hate towards Diana because she was created differently than the rest of the island's inhabitants. On her way to winning the race, Diana notices a ship that 1)broke through the barrier separating the island from the World of Man and 2) the ship was on fire and going down quickly. She leaves the race and jumps into the water in the hopes of saving those onboard. There was only one survivor, an older teen named Alia. Alia is the descendent of Helen of Troy and as such, she is a Warbringer.
Diana and Alia work to find out how to stop the people who are hunting Alia as well as help Alia redeem her ancestors/stop the Warbringer bloodline. There are others on the team: Jason (Alia's brother), Theo (friend of the family), and Nim (Alia's BFF who deserves her own series!). This is a coming of age story nestled in a journey to Greece and the resting place of Helen. On the way there is romance, really great one-liners, and some deep topics brought up (race, sexism, capitalism, etc).
Overall, it was fun and adventurous story that added to my love of Wonder Woman.